Summarizing Production Server Failure Modes
Common server errors that I managed to find in kubernetes maillist (possible not very related to production OPs since many are asking beginner questions):
Misconfiguration or mis-setup; version mismatch; software bug
Service failed to start. service outputs error in log. service status fail. command outputs fail.
Network down. Network unable to connected. Firewall issue.
Process dies (especially the proxy process).
Network or something misconfiguration.
Process/service becomes non-responsive
Anybody reporting disk degradation/corruption error?
Kubernetes has a HA doc, which happens to have summarized some common failure modes:
VM(s) shutdown
Network partition within cluster, or between cluster and users.
Crashes in Kubernetes software
Data loss or unavailability of persistent storage (e.g. GCE PD or AWS EBS volume).
Operator error misconfigures kubernetes software or application software.
I also checked openstack-operator maillist for more failure modes
Unexpected cpu/disk high usage.
Dhcp down / unable to acquire ip address
An operation (usually VM spawning) forever
Something in common linux failures
Read-only file system error (i.e. FS corrupt, or no free space)
Kernel panic
Kernel softlockup / hardlockup
This paper gives a relative frequency chart of hardware failures that need replacement. 1 high-performance computing cluster (HP1) and 2 internet service providers (COM1, COM2)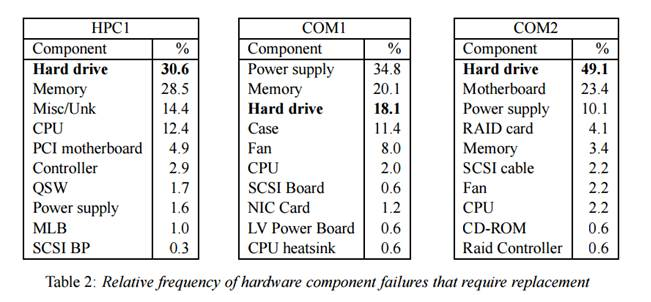 Disk failures in the real world: What does an MTTF of 1,000,000 hours mean to you? shows that
Disk failures exhibit significant levels of autocorrelation in time (failures follow failures in time)
RAIDShield: Characterizing, Monitoring, and Proactively Protecting Against Disk Failures reveals that
Reallocated sectors correlates strongly with impending disk failures
Many disks fail at a similar age
Accumulation of sector errors contributes to the whole-disk failure, causing disk reliability to deteriorate continuously, and eventually fail shortly or suffer a larger burst of sector errors. (RS can be observed)
We can download public computer failure datasets at
---
---
Create an Issue or comment below